PENGUNGKAPAN NILAI-NILAI ISLAM LAPORAN TAHUNAN BANK MANDIRI SYARIAH
Atieq Amjadallah Alfie Amjadallah Alfie
Abstract
Disclosure ofIslamic valuesintheannual reportthe informationcontent ofmandiri syariah bankis one of theinstrumentsto verifywhether themandiri syariah bank arealreadyrunningthe provisions ofIslamic lawin their operations. Itcan be doneby analyzingwhetherthe disclosure ofthe annual reportdisclosureformrequired mandatory or voluntary.
Formulation ofthe problem inthis study: first, ismandiri syariah bankhaveexpressedthe values ofIslamintheannualreport? Secondly, how to group any informationdisclosedintheannual reportmandiri syariah bank? and third, is theinformation disclosedinthefinancial statements ofmandiri syariah bankare in accordancewithIslamicstandardsunder GAAP101-111?
This study usecontent analysistoexplore and interpretateIslamic valuesinthecontent ofannualreportsPT. BankSyariahMandiri(BSM). Theselection of those financialinstitutionswas do because those institutions operate as commercial bankswithshariasystem. The resultsofthe annualreportof PT. BankSyariahMandiri(BSM) showedthat they alreadydisclosethe valueofIslambased onQur'an andsunna. Their presentation andreporting ofthefinancial statementsarealsoin accordancewith Statement ofFinancial Accounting Standards (SFAS) No. 101.
Keys word : Disclosure, islamic value, annual report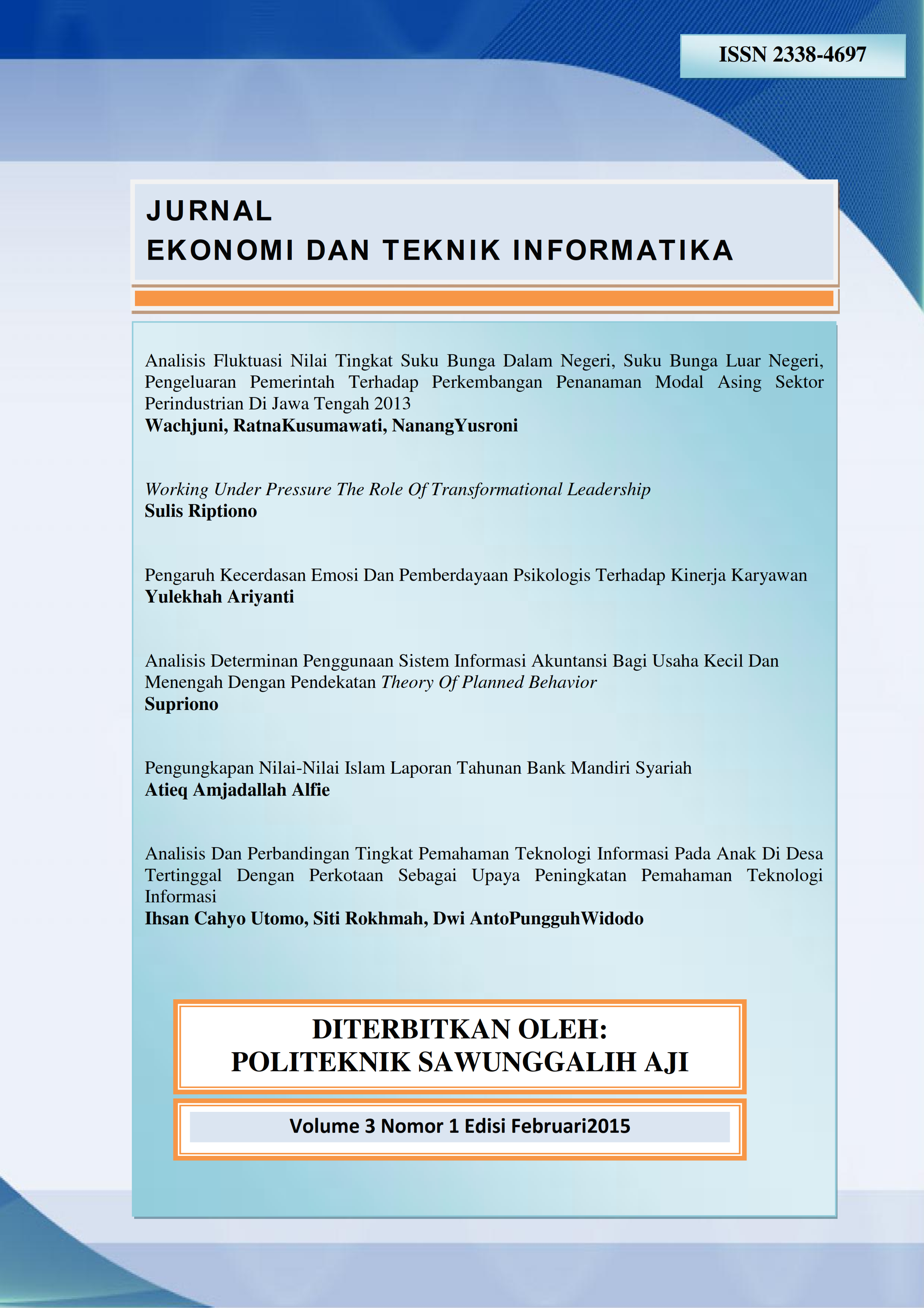 How to Cite
ALFIE, Atieq Amjadallah Alfie Amjadallah. PENGUNGKAPAN NILAI-NILAI ISLAM LAPORAN TAHUNAN BANK MANDIRI SYARIAH.
JURNAL EKONOMI DAN TEKNIK INFORMATIKA
, [S.l.], v. 3, n. 1, p. 55-78, mar. 2017. ISSN 2579-3322. Available at: <
http://e-journal.polsa.ac.id/index.php/jneti/article/view/26
>. Date accessed: 12 apr. 2021.