EVALUASI USABILITY WEBSITE STIE PUTRA BANGSA SEBAGAI MEDIA INFORMASI PERGURUAN TINGGI
Abstract
This study aims to evaluate the website interface on its usage convenince (usability). It also aims to provide
recommendation based on the evaluation as an attempt to improve  user acceptance level of the website.
The object of this research is STIE Putra Bangsa website. The research is conducted in the application of
quantitative method in the approach of descriptive quantitative. Website is analized by the use of variables, namely
download delay, navigation, interactivity, responsiveness, information, and user satisfaction. Simple random sampling
is the sampling techique used in conducting this research with 94 respondents.
The result of this research in the aspect of download delay it values the percentage of 75.80%. In the aspect of
navigation it values the percentage of 72.94%. In the aspect of interactivity it values the percentage of 74.73%. In the
aspect of responsiveness it values72.34%. In th aspect of information content it values 73.67%. In the aspect of user
satisfaction it values 72.96%. The above research results show that STIE Putra Bangsa is classified as good overall.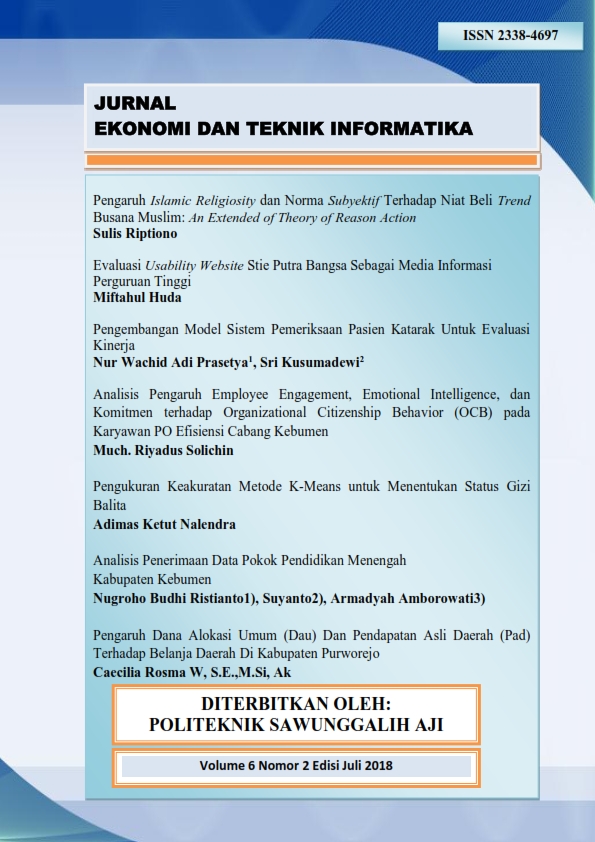 How to Cite
HUDA, Miftahul. EVALUASI USABILITY WEBSITE STIE PUTRA BANGSA SEBAGAI MEDIA INFORMASI PERGURUAN TINGGI.
JURNAL EKONOMI DAN TEKNIK INFORMATIKA
, [S.l.], v. 6, n. 2, p. 9-19, july 2018. ISSN 2579-3322. Available at: <
http://e-journal.polsa.ac.id/index.php/jneti/article/view/85
>. Date accessed: 04 mar. 2021.