Rancang Bangun Freifunk Pada Wireless Mesh Network DENGAN STANDAR IEEE 802.11b/G
Imam Tri Suryadin

Wing Wahyu Winarno

Sudarmawan Sudarmawan
Abstract
Many people do activities in the computer utilizing one of them is on the internet. Internet is widely used in various fields of education, entertainment, and even governments. Due to the greater Internet functionality for humans certainly fast internet service and stable is the most expected every Internet user. According to market research agency e-Marketer, the number of internet users in Indonesia, the country netter population reached 83.7 million in 2014.
With the number of network-enabled supplied by the office of the Office of the Department of Transportation, Communications and Informatikamembuat network traffic is getting full. Districts and villages in Purworejo district also needs data from the Department office. Good infrastructure will make the pace of the computer network at the office becomes more optimally with the existing bandwidth.
Wireless Mesh Networks (WMN) combining wireless technology and ad-hoc routing, so that the service providers do not have to provide the installation cable to connect each Access Point (AP) mode as the general infrastructure. Wireless Mesh Network provides saving solutions wires at once to make the level of mobility of the wireless network becomes higher by replacing the use of a cable as a liaison between devices backbonewireless be using wireless technology that is also used for connecting to the client WMN has the ability to be able to configure themselves (self configured) , organized themselves (self organized), and constituted itself (self-healing) that will create and maintain connections between nodes in the event of damage to one node.
Keyword: Wireless Mesh Networks (WMN), Routing Protocol, Freifunk, Quality of Service (QoS), delay, jitter, throughput, Packet Loss.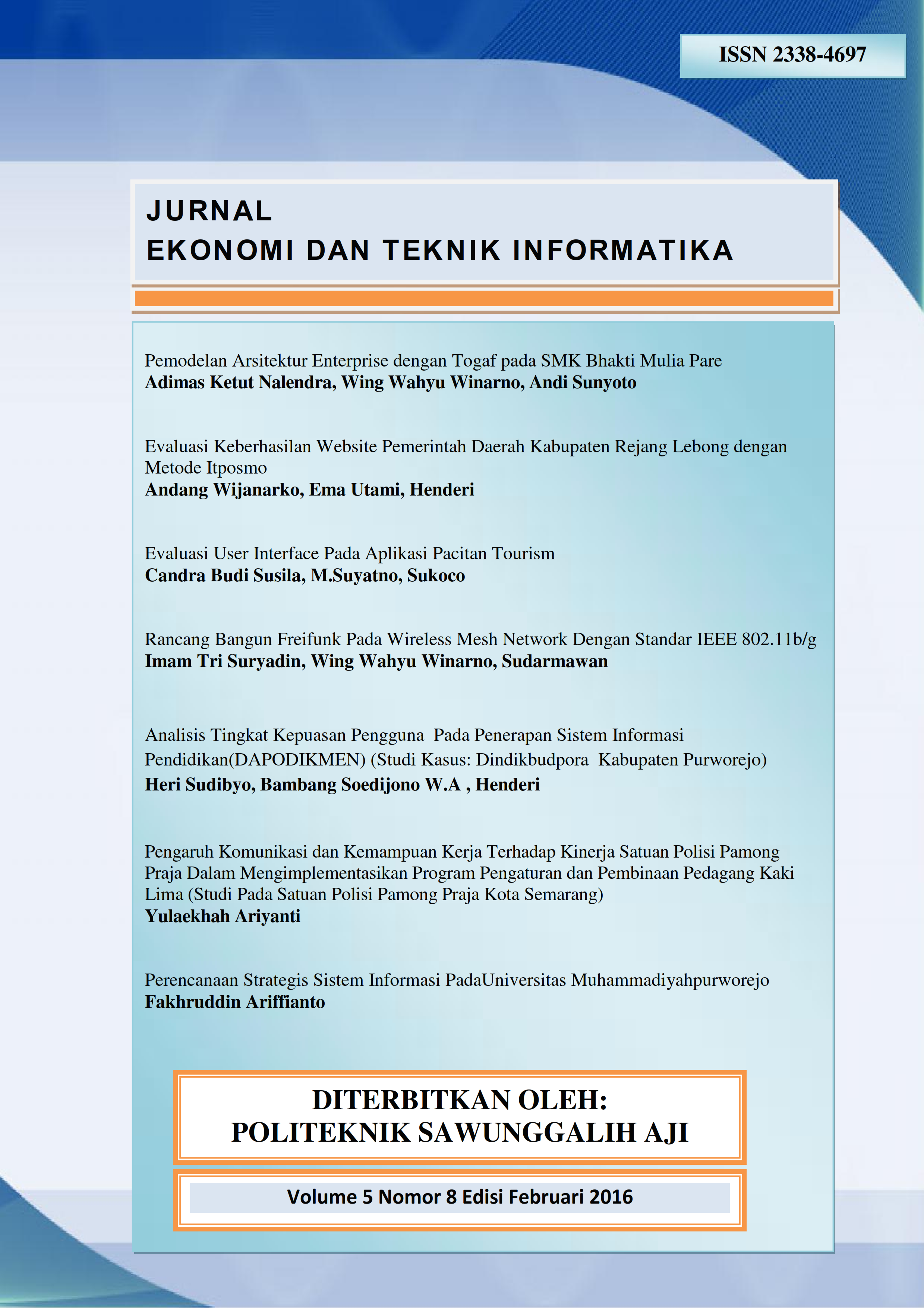 How to Cite
SURYADIN, Imam Tri; WINARNO, Wing Wahyu; SUDARMAWAN, Sudarmawan. Rancang Bangun Freifunk Pada Wireless Mesh Network DENGAN STANDAR IEEE 802.11b/G.
JURNAL EKONOMI DAN TEKNIK INFORMATIKA
, [S.l.], v. 4, n. 1, p. 38-56, mar. 2017. ISSN 2579-3322. Available at: <
https://e-journal.polsa.ac.id/index.php/jneti/article/view/33
>. Date accessed: 16 may 2021.