EVALUASI EFEKTIVITAS SISTEM INFORMASI DENGAN PENDEKATAN UTILITY SYSTEM (Studi Kasus : Politeknik Sawunggalih Aji)
Singgih Arif Widodo

Bambang Soedijono

Andi Sunyoto
Abstract
 
 This research aimed to evaluate information system Polytechnic Sawunggalih Aji by using utility system
approach. Utility system approach to evaluate information system from the point of the system effectiveness, firstly
proposed by Kendall. This approach captured the perception of the system based on 6 points of view, which are
possession, form, place, time, actualization and goal, as well as the scale of measurement using a likert scale and SPSS
software. This study uses a research instruments with a likert scale questionnaire. The results showed how good the
quality of the information system Polytechnic Sawunggalih Aji, and any item of utility system that contributed the most to
improving the quality of the system, as well as proposals that may be submitted to the management of information system
to develop more qualified information system.

Keywords: Evaluation, Information system, effectiveness, Utility Approach, SPSS.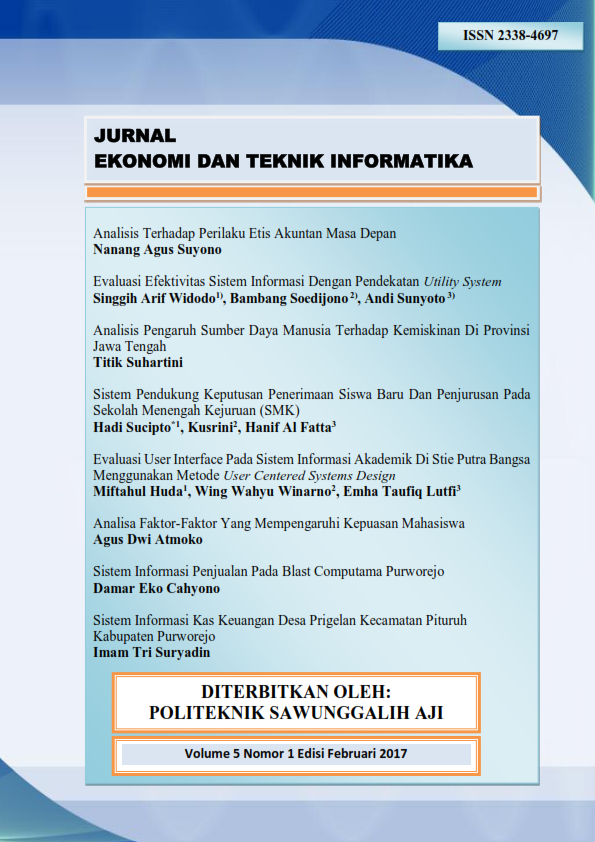 How to Cite
WIDODO, Singgih Arif; SOEDIJONO, Bambang; SUNYOTO, Andi. EVALUASI EFEKTIVITAS SISTEM INFORMASI DENGAN PENDEKATAN UTILITY SYSTEM (Studi Kasus : Politeknik Sawunggalih Aji).
JURNAL EKONOMI DAN TEKNIK INFORMATIKA
, [S.l.], v. 5, n. 1, p. 7-18, may 2018. ISSN 2579-3322. Available at: <
https://e-journal.polsa.ac.id/index.php/jneti/article/view/74
>. Date accessed: 16 may 2021.