EVALUASI USER INTERFACE PADA SISTEM INFORMASI AKADEMIK DI STIE PUTRA BANGSA MENGGUNAKAN METODE USER CENTERED SYSTEMS DESIGN
Miftahul . Huda

Wing Wahyu Winarno

Emha Taufiq Lutfi
Abstract
This study aimed to evaluate the user interface of academic information system on ease of use (usability), provide
recommendations based on the evaluation to enhance academic information systems and produce prototype user interface
to enhance user acceptance levels of the academic information systems.
The object of this study is academic information systems. This study uses a user centered design systems with some aspects
of the variables in the form of Visual Clarity, Consistency, Informative Feedback, Explicitness, Appropriate functionality,
Flexibility and control. The sampling technique in this study using simple random sampling technique with a number
responeden 30.
Results from this study shown that the overall academic information system otherwise well. While the results show that
the respondent's response assessment of academic information system on flexibility and control aspects of assessing
4.44% for an answer "strongly disagree", 27.78% for an answer "do not agree", it shows that there are still many users
of information systems academic difficulty in using it.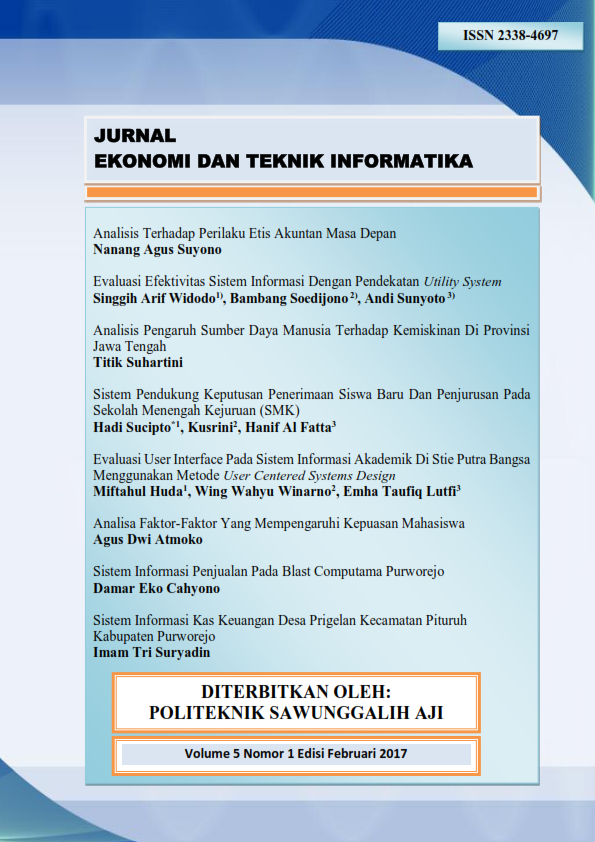 How to Cite
HUDA, Miftahul .; WINARNO, Wing Wahyu; LUTFI, Emha Taufiq. EVALUASI USER INTERFACE PADA SISTEM INFORMASI AKADEMIK DI STIE PUTRA BANGSA MENGGUNAKAN METODE USER CENTERED SYSTEMS DESIGN.
JURNAL EKONOMI DAN TEKNIK INFORMATIKA
, [S.l.], v. 5, n. 1, p. 42-59, may 2018. ISSN 2579-3322. Available at: <
https://e-journal.polsa.ac.id/index.php/jneti/article/view/77
>. Date accessed: 16 may 2021.